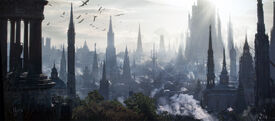 The city of Steinenfeld, known as the City of Black Towers, is the capital to both the region and empire of Franconia. The city itself is located on the Black River, in the core of the Empire.
The original seat of House von Eisenfaust, Steinenfeld become the capital of the newly formed Empire after the human revolution of the first era. The newly named Kaiser Adelmar von Eisenfaust I.
During the reign of Kaiser Rudolph von Eisenfaust, the city was captured in the Aeterian war for lower Franconia. Rudolph returned to the capital and reconquered his last city. Killing all Aeterian invaders in the process.
Districts
Edit
Iron District (dark purple)
Silver District (silver)
Flame District (red)
Gold District (gold)
Plague District (green)
Old Town (teal)
St. Gerhardt's Block (pink)
Port Side (light blue)
Beggar's Row (yellow)
Copper Block (copper)
Landmarks
Edit
Imperial court
East Bazaar
West Bazaar
Military Academy
Square of St. Rudolph
Ignatious' Tower
Market Square
Cathedral Square
Buildings
Edit
Steinenfeld has five watermills, eight banks, nineteen lombards, forty inns and taverns, thirteen brothels, and twenty-four temples. Some Examples:
Large Buildings
Edit
Hierarch's castle
City hall
Great Temple of the Eternal Fire - the largest temple in Franconia
Main branch of Achterberg Bank
Main branch of Beckenbauer Bank
Main branch of Eckstein Bank
Branch of di Arden Bank
Branch of Giancardi Bank
Inns and taverns
Edit
The Crown Tavern
The Arrogant Hippogriff Inn
Smoking Locksmith Pub
The Jailer & The Cell Pub
Bleeding Bee Inn
The Mill & The Woodcutter Pub
The Gooseberry Inn
Brothels
Edit
The Rapid Rascal
The Hook
The Red Dress (secret headquarters of The Sisterhood)
Sailor's Choice
The Prude's Suspenders
Other Buildings
Factories for crackowes and Broadcloth
Port Cranes
The von Faust Auction House
Guardhouse